Milton Musical Society's production of Dirty Rotten Scoundrels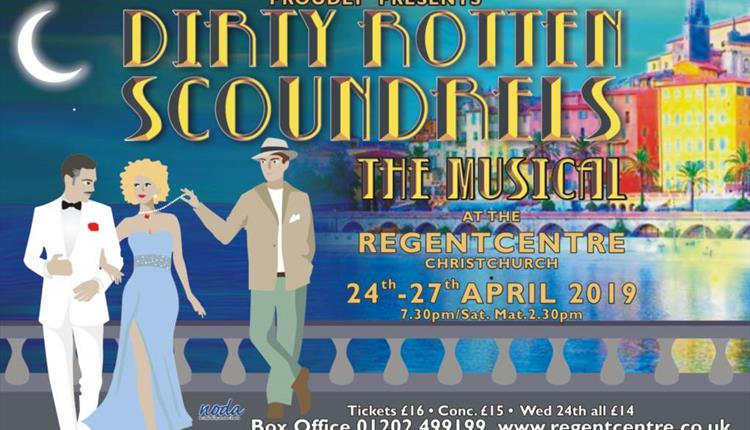 About
Milton Musical Society proudly present…Dirty Rotten Scoundrels the Musical, which is at the Regent in Christchurch from Wednesday 24 – Saturday 27 April 7.30pm with a Saturday Matinee at 2.30pm.
The Show is based on the popular 1988 MGM film comedy starring Michael Caine and Steve Martin, who were pitch-perfect as the shady bounders in a shady place.
Dirty Rotten Scoundrels the Musical is set on the French Riviera, where high jinks, cons and witty hilarity are the order of the day. This sophisticated, suave and mischievous musical is a hysterical comedy that also features a delightfully jazzy score by David Yazbek (The Full Monty the Musical) and was nominated for a staggering 11 Tony Awards for its Broadway production in 2005.
Smooth talking Lawrence Jameson makes his lavish living by talking rich ladies out of their money in Beaumont sur Mer, ably assisted by Andre Thibault, the ever so slightly corrupt local Commissioner of Police, who is also on commission!
Meanwhile, American, Freddy Benson more humbly swindles women by waking their compassion and even passion for him with fabricated sob stories about his grandmother's failing health.
After a chance meeting on a train, the two lovable rogues attempt to work together, only to find that this small French town isn't big enough for the two of them. They agree on a challenge: the first one to extract $50,000 from a young female target, American heiress Christine Colgate, wins and the other must leave town forever.
A hilarious battle of wits and cons ensues that will keep audiences laughing, humming and guessing to the end as to which of the rascals will win the bet, with plenty of twists and turns along the way!
Directed by Jon Shiner; Choreography by Kirsti Warne and Musical Direction from Lee Marchant.
Tickets for Dirty Rotten Scoundrels are:
Wednesday 24th April 7.30pm: £14 all seats
Thursday 25th – Saturday 27th April 7.30pm & the 2.30pm Saturday Matinee: £16 Concessions: £15
Cast List
Directed by Jonathan Shiner
Produced by Melva & Sid Coe
Choreography by Kirsti Warne
Musical Director Lee Marchant
Assistant Musical Director Jo Kent
Principal actors
Lawrence Jameson played by..... Martin Mansfield.
Freddie Benson played by . . .Rob Arrowsmith
Christine Colgate ……..Catherine Smith
Andre Thibault; the Policeman......Mark Ward
Jolene Oakes.......Emma Hardy
Muriel Eubanks...... Bev Harris.
Guide Prices
| Ticket Type | Ticket Tariff |
| --- | --- |
| Concession | £15.00 per ticket |
| Standard Entry | £16.00 per ticket |
| Wednesday 24th April | £14.00 per ticket |
The Regent Centre
51 High Street
Christchurch
Dorset
BH23 1AS
Opening Times
Sorry, this event has passed
TripAdvisor