If you are a wheelchair user Poole's Beaches team have two beach accessible wheelchairs that can be used in the sea, one at Sandbanks beach and one at Branksome Chine beach.
Available May to September on a first come, first served basis from 9:30am to 4:30pm at Sandbanks and Branksome Chine beach offices. Users need to pay a fully refundable £50 cash deposit. Please note there is no booking service for the wheelchairs.
Between May and September, Sandbanks beach also has Mobi-Mats to help wheelchair users move easily from the promenade onto the sand and closer to the sea.
Dog Wash
Dogs enjoying Poole beaches can now go home clean and sand-free after a visit to the self service dog wash at Sandbanks. This is a self-operated warm water dog wash which allows dog owners to select from a range of available washing and drying options. Customers can select the choice of service and how many minutes required and all at a low cost.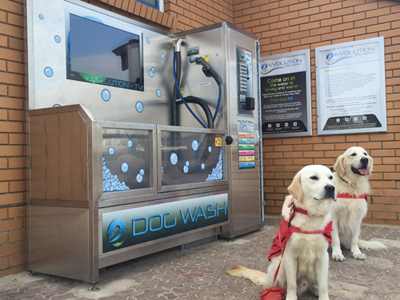 Note: Dogs are not allowed on beaches between 1 May and 30 Sept with the exception of east of Branksome Chine Beach, and west of Sandbanks Beach.
Beach Football
Permanent goals have been set up between Canford Cliffs and Branksome Chine that are free to use.
Beach Huts
Short term beach hut hire on Poole's beaches is the perfect way to enjoy some of the UK's best beaches. For hut bookings please visit this page for further details.
For an overnight stay with a difference try a Bournemouth Beach Lodge. Combining the charm of a beach hut by the sea with the comfort of a shower, galley kitchen and Wi Fi – the Lodges sleep up to 6 people. Why not treat yourself to a 3, 4 or 7-night stay?
Beach Offices
Unfornately currently our beach offices are closed. For information or advice about the facilities on Poole's beaches, contact 01202 123800 or email: Tourism.information@bcpcouncil.gov.uk
Parking Permits
Beach Season Tickets can be purchased and allow unlimited parking in the beach car parks. The season ticket can be issued for any consecutive seven-day period.
Shore Road Car Park - 72 spaces plus 12 on street disabled spaces
Banks Road - 400 on street spaces 5 disabled
Sandbanks Car Park - 550 spaces 10 disabled
Western Road Car Park (Canford Cliffs) - 50 spaces 2 disabled
Beach Road Car Park (Canford Cliffs) - 352 spaces
Branksome Chine Car Park - 108 spaces 7 disabled
Branksome Dene Chine Car Park - 150 spaces 8 disabled
Public Transport
More Bus run the Number 60 service from Poole Bus Station to Sandbanks.