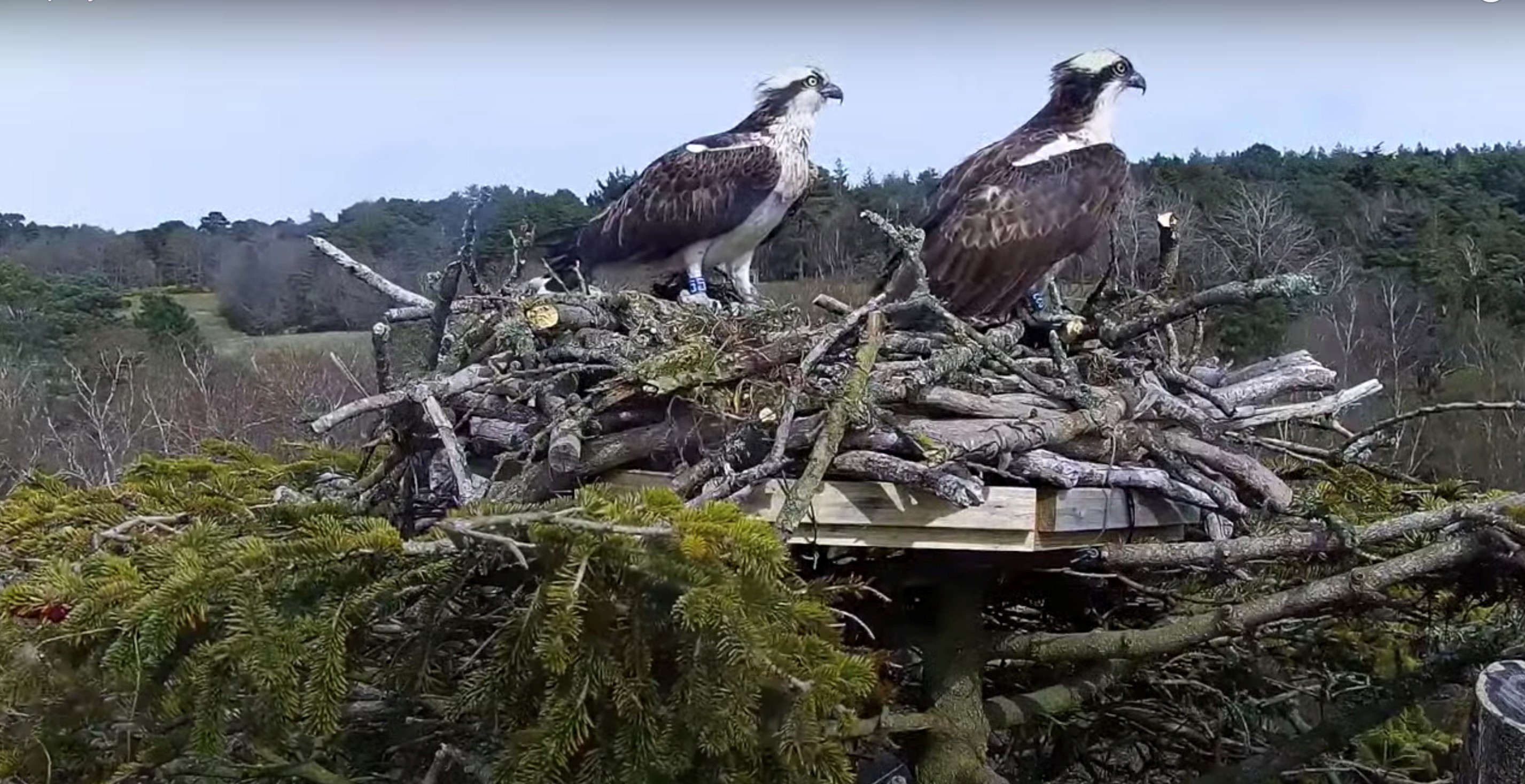 The skies above our region are rightly famed for the spectacular flying displays of aircraft old and new wowing the crowds at the Bournemouth Air Festival.
But, hopefully, over the next few weeks, there might just be an equally thrilling site taking to the air near you.
Because in the last few days some new residents of the BCP area have made history.
Two precious eggs laid in a large, man-made nest at a secret site in the wild and watery expanse of Poole Harbour, have hatched.
But these are not any old eggs. Pale white and mocha mottled, they belong to the first ospreys to successfully breed in southern England for 200 years.
And this is not any old bird. The osprey is perfectly adapted to its fish-eating habits, combining aching rarity with a striking appearance, (think a streamlined eagle, dressed in creams and browns, sporting a bandit's mask and armed with a hooked beak and inescapably sharp talons. The osprey well and truly takes its perch firmly amongst the royalty of the avian world.
The osprey, previously extinct in the UK, was once so rare that in the 1950s its then sole UK breeding site in Loch Garten, Scotland, was protected round the clock by guards to deter thieves from stealing its eggs.
Move forward nearly 70 years and thanks to the fantastic efforts of conservationists such as local heroes Birds of Poole Harbour and partners the Roy Dennis Wildlife Foundation, the osprey is now firmly on the comeback trail.
The developments over the last few weeks have been extremely gratifying for me on a personal note.
The osprey has been my favourite bird since childhood. I have watched them in Scotland and Florida many times, read about the history of their extinction and gradual re-emergence in the UK at Loch Garten when I was a young teenager and they inspired my continuing love of birds of prey in particular.
I first read Ospreys in Speyside by George Waterston in 1972 which tells their story in Scotland, probably populated by Swedish birds coming across the North Sea and their attempted breeding which was regularly damaged by egg collectors.
I also built a full-size model of an osprey, with its five-foot wingspan, purchased from the RSPB and it was probably the most complex model I have ever put together … and looked remarkably lifelike!
I've had a long-standing interest in the Poole Harbour reintroduction scheme and have watched developments with growing excitement through the live web cams set up at nest sites around the area.
This year's successful pair, snappily known as CJ7 and 022, met last spring having made their migration back to Poole Harbour after wintering in West Africa. They spent the summer of 2021 pair-bonding and establishing nesting territories – behaviour which tantalised observers as it revealed that the birds were keen on breeding here in the future.
Both birds left Poole Harbour in early September 2021 and those involved in the project kept everything crossed for their safe return this spring.
They both returned in early April, and, having spent the whole of last summer together their instincts to breed kicked in and the pair settled on a nest. Three eggs were produced in total and the breath of everyone involved in the project was collectively held.
Then just a few days ago, history was made. Paul Morton from the Birds of Poole Harbour takes up the story: "Words don't even begin to describe what this means to us, and of course osprey conservation in Western Europe.
"We started our licence application in 2015, and the actual reintroduction in 2017, and the prospect of actually having wild hatched chicks in a nest always felt so far away.
"But here we are, with an official birthday of June 1st 2022, and we now have the first wild osprey chicks for Southern Britain in 200 years, right here in Poole Harbour.
"Now these birds are back, and successfully breeding, we hope that they can continue to build in strength as a population here on the south coast and be enjoyed by generations to come. It's been a huge team effort getting to this point, and everyone within the project is ecstatic and the public response has been just superb."
The chicks will lay low in the nest for their first few weeks and after about 50 days will be fledged and ready to take their first tentative flaps out over Poole Harbour – a true emblem of the wild returning to our skies after too long an absence.
The ospreys' success marks a momentous milestone in the history of UK conservation and further show that the BCP region which we are lucky enough to share with such magnificent wildlife, is a truly remarkable place.
A worldwide audience has been lucky enough to witness the Osprey drama unfold live via a webcam set up at the nest site. If you'd like to keep up to date with the ospreys you can visit the webcams here: Poole Harbour Webcams - Birds of Poole Harbour
Blog Written by BCP Council Chief Executive Graham Farrant
Related
0 Comments