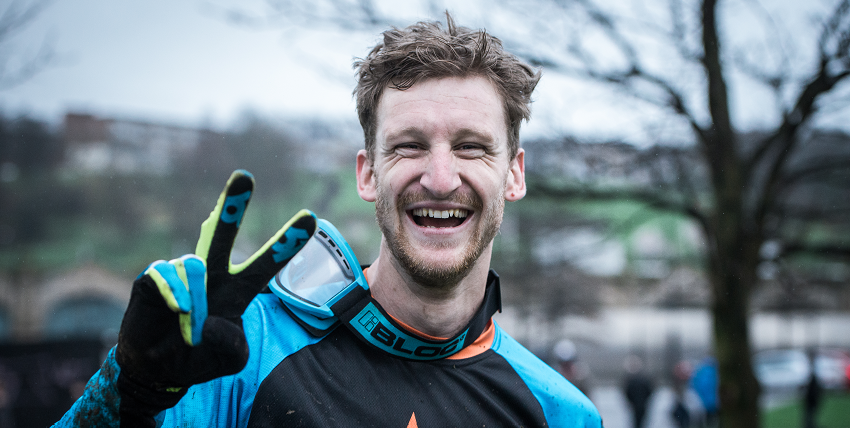 Hi, I'm Ben Moore – professional mountain biker, urban downhill specialist and top notch flapjack eater!
I first learnt to ride a bike in Upton Country Park at the age of four. This soon progressed to riding my little Raleigh bike everywhere! During my childhood, my father built various ramps and jumps outside my house to play on. These soon got bigger and bigger! My worst year saw me visit A&E seven times for broken bones and I split my head open on numerous occasions.
My teens were spent on Upton Heath at the legendary 'Canyons' – an abandoned quarry. The jumps and drops there taught me the vital skills that I have to this day. Another batch of visits to A&E and several concussions later, I realised racing was my passion.

I now compete around the world in several disciplines and have had an impressive and competitive career to date. My Facebook page has over 34,000 followers. It's great to share this crazy journey with everyone!
At the beginning of 2018 I got in touch with Bournemouth & Poole Tourism to see about collaborating with them on a video project I had in mind. I wanted to show off the delights my hometown had to offer. As Bournemouth and Poole had just joined forces – working together as one resort – it seemed like the perfect opportunity to produce a short social media video to showcase the 10-mile stretch of fabulous coastline.
What an opportunity! Growing up in Poole and Bournemouth is very special, but to combine my job and passion with the vision of Bournemouth & Poole Tourism was almost unimaginable.
Take a look at the video we produced... currently at 83,000 views and counting!
Here are some highlights of my time spent filming the video…
Nov 2017
Drone boat scene, Poole Harbour- out in Europe's largest natural harbour, surrounded by the most stunning scenery. Unfortunately, I was sat on my friend's boat in a t-shirt and shorts freezing in November! The drone was unstable due to high winds which meant I was stuck on the front of the boat nearing hypothermia by the end!
Dec 2017
Bournemouth Beach - always stunning views while cruising along this world-class seafront. It was nice to see lots of local people interested in the film while shooting these scenes. The zip wire on Bournemouth Pier was the most fun to film! This is the first pier-to-shore zip wire in the world and not for the faint-hearted. A huge amount of planning went into this but the expertise of the RockReef team made it easy on the day of filming. The end result was awesome – I think you'll agree… I mean, how many times will you see a bike zooming over the waves and landing on the beach!
Upton Country Park, Poole - the exact place I learned to ride a bike at the age of four! The perfect place to learn with 140 acres of parkland, shoreline and formal estate gardens. We also used the drone to capture some of Holes Bay's most unseen areas. Holes Bay is an intertidal embayment off Poole Harbour. On all three occasions, the weather was very dull but a brief dry spell allowed us to go ahead on the third attempt.
Jan 2018
Poole Quay - We decided the best way to make this video stand out and go viral was to add as much action and excitement as we could and what better way to do this than jumping over a car with the beautiful quayside as a backdrop. We decided it was a "go large or go home" situation and even had the pleasure of Dorset Police's company for the Mustang car jump! They loved it!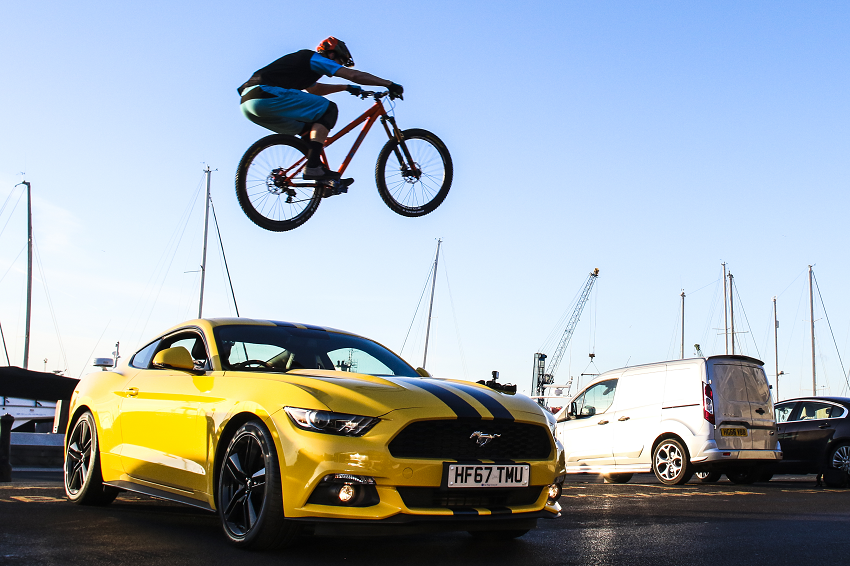 While on Poole Quay, we thought we'd make the most of our waterside location by filming a stunt where I jumped from the quayside onto a fishing boat. Looks pretty simple on camera, right? It was one of the hardest stunts I have ever done. It was a fun scene to shoot but also the hardest for me on the bike. The landing zone was only three inches longer than the bike itself, meaning a jump at speed had to be landed and stopped virtually immediately. Then to make it even trickier, the boat was constantly moving and the surface of the boat was ultra-low friction, meaning the bike just wanted to slide off upon impact! A few heart-in-the-mouth moments, I can tell you!
Hengistbury Head – What a stunning location with awesome views heading away from Bournemouth towards Christchurch. Here you'll find activities for the whole family to enjoy. It was hard to capture due to high winds and restrictions of drone use, but with amazing scenery we captured some cool stunts with a beautiful coastal backdrop.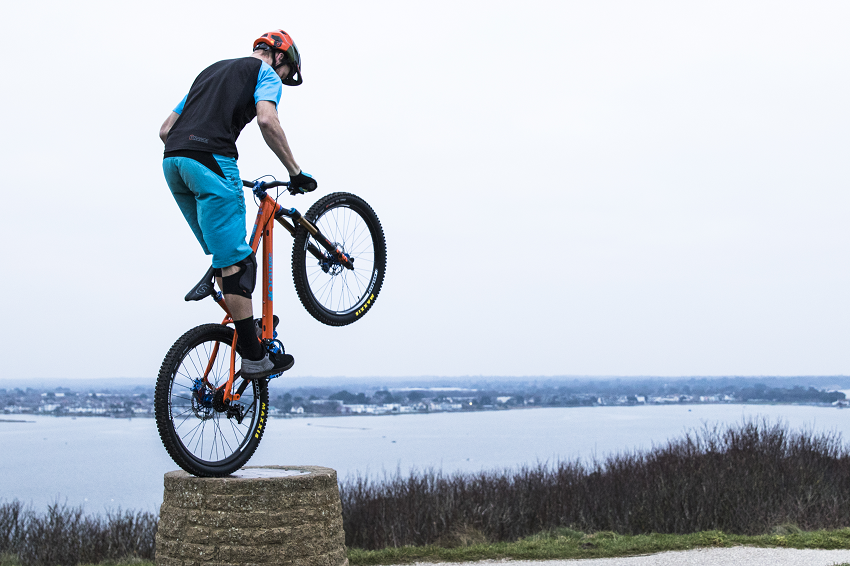 If you want to find out more about what I do, you can visit my website at:
http://www.benmooreracing.co.uk/
Thanks to Bournemouth & Poole Tourism for allowing this to happen. We really do have the 'Coast with the Most'!
#lovebournemouth
#lovepoole
Related
0 Comments