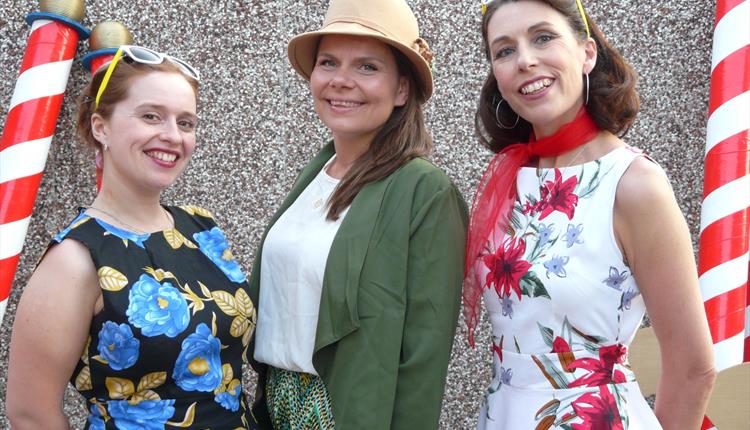 About
Following their success last year with The Mikado, Christchurch Gilbert & Sullivan Society return with one of the most popular of all the famous Savoy operas, The Gondoliers, at the Regent in Christchurch.
Written in 1889, The Gondoliers was the twelfth Gilbert & Sullivan collaboration between W S Gilbert and Sir Arthur Sullivan, and it premiered at the famous Savoy Theatre in London.
Christchurch Gilbert & Sullivan Society have set their production of The Gondoliers in the early 1950s. The plot is a sparkling satire on the rise of republicanism in continental Europe, whilst also levelling a gentle critique of the institution of the monarchy for the misrule that had caused the threat to its very existence.
Set in sunny Venice, the shady goings on begin when Casilda, the daughter of the Duke of Plaza-Toro, arrives in the city to meet the heir to the throne of Barataria, who she was betrothed to when they were both infants.
As the sun rises on a piazza in Venice, cafe owner Roberto tunes in his radio, much to the annoyance of his wife. Then a trio of sophisticated ladies arrive for morning coffee, only to find they are all wearing the same outfit whilst the Duchess of Plaza-Toro is dressed for a production of 'Sunset Boulevard'!
Director Trevor King, who has set the production in the early 1950's, is putting his cast of thirty-five through their paces with swirling red capes in 'Dance a Cachucha' and a rousing chorus of 'Just one Cornetto' just to add to the fun. To find out why the local priest has his baguette broken in half and the 'Old Retainers' want to remove their clothes, then join Christchurch Gilbert & Sullivan Society as they set sail from Venice to Barataria in one of Gilbert and Sullivan's most popular operettas.
Over sixty brand new costumes and an original set bring colour to the story of two Venetian gondoliers who, through an error of identity, find that one of them is heir to the throne of Barataria.
The sixteen-piece orchestra, under the lively glowstick baton of musical director Ieuan Davies, brings the music to life, giving depth and vitality to the lovely score.
Guide Prices
| Ticket Type | Ticket Tariff |
| --- | --- |
| Adult Ticket | £16.00 per ticket |
| Concession | £15.00 per ticket |
The Regent Centre
Christchurch
Dorset
BH23 1AS
Opening Times
Sorry, this event has passed
TripAdvisor