Global Rainbow is a large-scale illumination project, that has been presented in cities such as Berlin, Toronto, and New York, and is now coming to the South West!
Be sure to look out at the night sky this November as Global Rainbow is coming to The Lighthouse Poole, with thanks to BCP Council. For three days in November, starting Thursday 18th seven beams of coloured laser light will brighten the sky, creating a natural rainbow, available to see from dusk until midnight (weather permitting).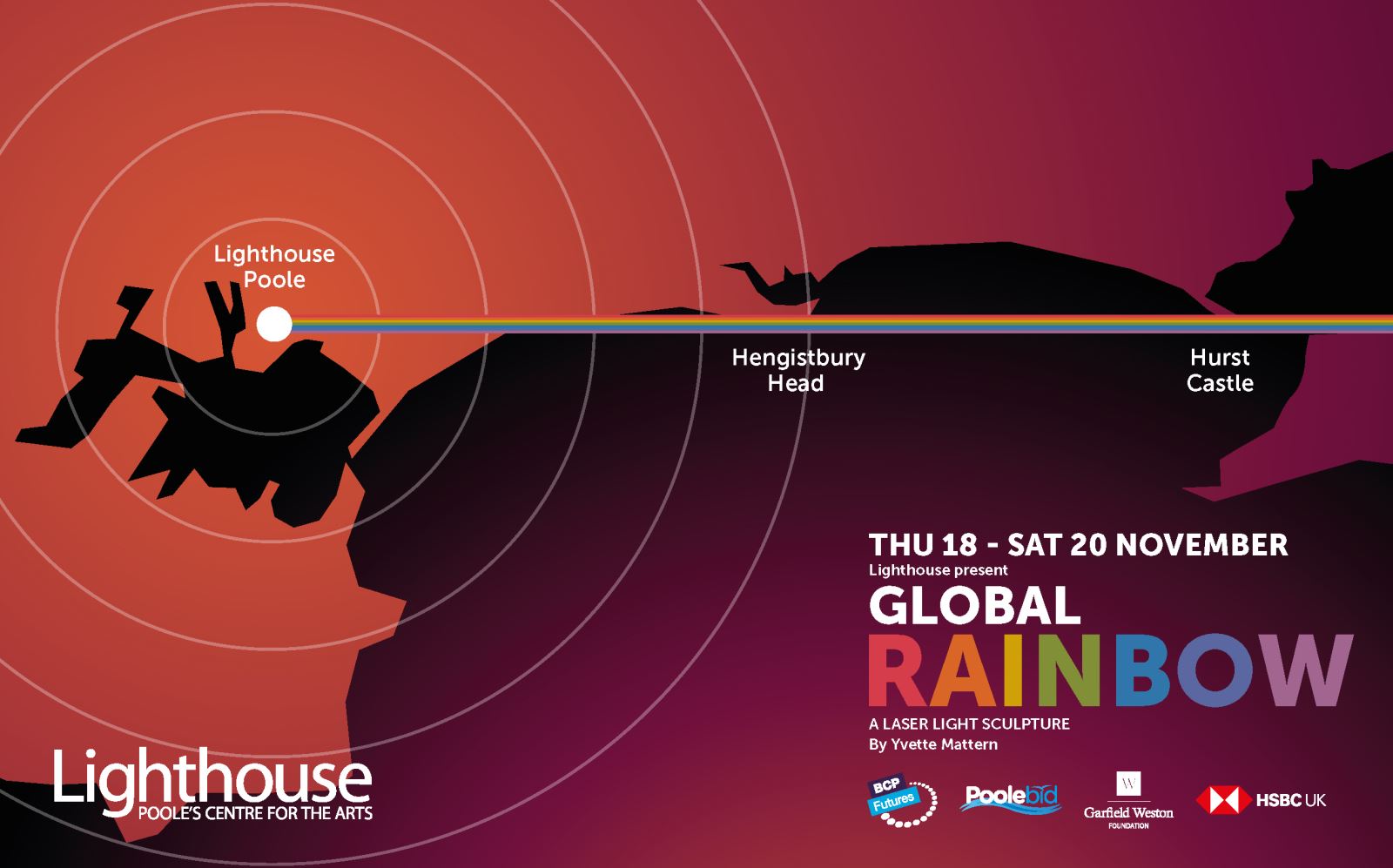 So, wrap up warm and head on out to see this unique laser light sculpture. Here are the recommended 6 best spots to view the rainbow in the Bournemouth, Christchurch and Poole area.
View the laser illumination from the Amphitheatre, which will be where the direct source of light it is. With fantastic views of the beams shooting off into the distance, it will be a great place to kick start the beginning of the rainbow.
Poole Park
Only a stone's throw away from the original source, Poole Park would make a great place to admire the lasers, pick a side of the lake and look up and appreciate the beauty.
Bournemouth Beach
Get those cameras at the ready, and head down to Bournemouth Beach, as these sandy shores are the ideal spot to sit back and watch the lasers in all their glory.
Bournemouth Pier
Position yourself on Bournemouth Pier to get excellent views that nobody else can benefit from, with being stood at a distance from the beams. Open from 9am- 11pm daily, subject to change with weather permitting.
Southbourne Beach
Have the tranquil sound of waves in the background, whilst appreciating the colour spectrum, a perfect location to view the illuminations overhead.
Similar to Southbourne Beach, Boscombe Beach would be ideal If you wanted to have a relaxed approach to watch the illuminations.
So, whether you visit one location, or wish to see the illuminations from different perspectives, make sure to tag any pictures or videos using #globalrainbow or #poolerainbow on socials.
Related
0 Comments