Like most people, one of the most important things I look for when booking holiday accommodation (as well as good food, great location and comfortable bed!) is a fabulous view. It's the view from the room, rooftop or balcony that often stays with us long after the holiday has finished and is usually the first 'holiday snap' we take on arrival, before heading off to explore.
So where in and around Poole can you find somewhere to stay with a memorable view?
Whatever your preferred holiday accommodation; whether comfort and luxury or back-to-basics camping to enjoy the great outdoors, Poole and its environs ticks all the boxes.
In the heart of Poole – unrivalled views of the harbour and marina
You won't get closer to the heart of Poole Harbour than by staying at the Thistle Hotel, situated right on Poole Quay. It's in a great location for exploring the historic old town and boasts amazing views across Poole Harbour to the nature reserve of Brownsea Island and of the busy and bustling quayside. Check when booking whether your room will have a view and enjoy a meal in the hotel's restaurant with great views too.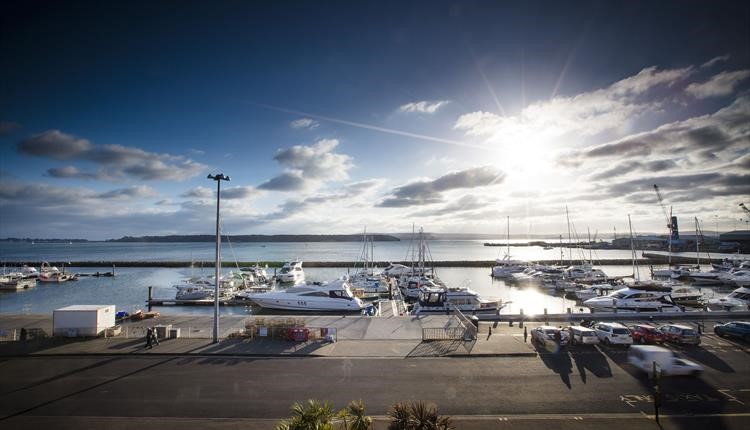 Admire the boats in Poole Marina from the Thistle Hotel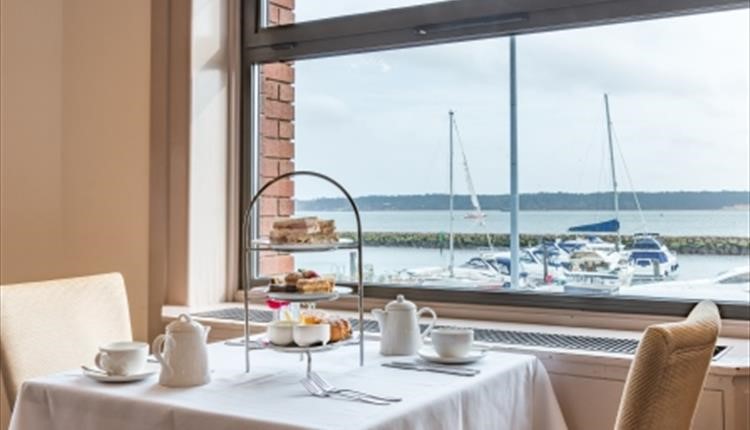 Afternoon tea with a view at the Thistle Hotel
Freedom and flexibility of self-catering – with a view!
Prefer the flexibility of self-catering? No problem, there's great accommodation in and around Poole with fantastic views too!
Take for example Harbour View Holiday Home, a stunning new build with balcony views of Poole Harbour and Hamworthy Park. Sleeping twelve, or 6 as an upstairs or downstairs apartment, it offers uninterrupted views of Poole bay. The view takes in the harbour islands and the Purbeck hills, with Corfe Castle in the distance. The sun rise and sunset from this superb accommodation is one of the best in the world, all viewed from your holiday home.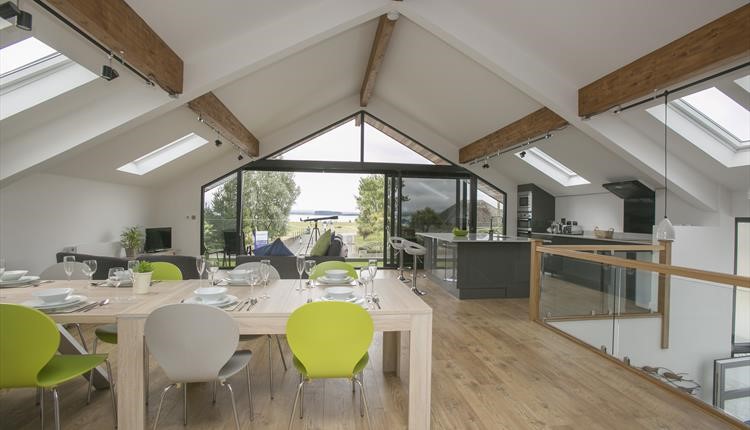 Enjoy the bay view from Harbour View Holiday Home
Poole has such a fortunate location surrounded by the natural beauty of the harbour, its islands, sumptuous Sandbanks to the east and the Purbeck hills and Jurassic Coast to the west, that almost every way you turn you will see one amazing view after another.
A view with a difference – a lifesaving location!
Fancy staying somewhere a bit different – still with great views and loads more to see besides? Try the RNLI College, situated in the heart of Poole. Not only is it a state of the art training college for the UK's lifeboat crews, but also an award winning hotel. It boasts fantastic views across Poole bay to the Purbecks, and its welcoming restaurant has panoramic views to enjoy whilst you enjoy a bite to eat.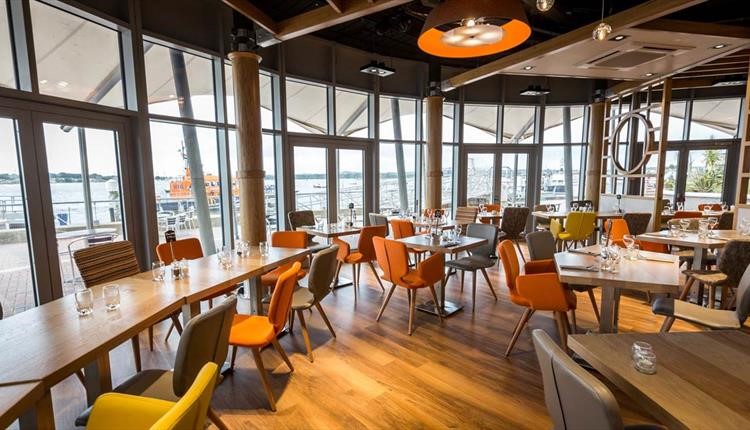 The RNLI College enjoys fantastic views
Back to nature – camping and caravanning with a view
Prefer to get 'back to nature' by staying in a rural idyll? Look no further that the campsites around Poole that offer exactly that! Wake up to country air, wild flowers, and nature trails, and start planning a picnic.
Try the Sandford Holiday Park, situated in acres of glorious countryside. With an ideal location between Poole, the small country town of Wareham, and the Purbeck hills it's a great base for exploring.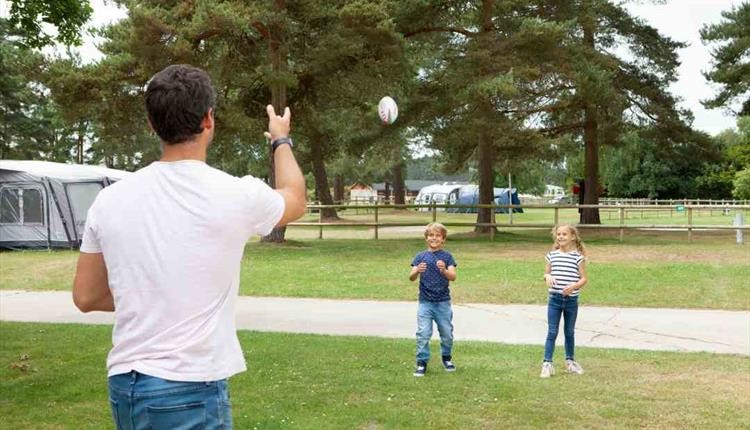 Fun and games with a view
An unrivalled view to enjoy while eating local seafood
I've yet to find anywhere that offers a view as good as that from the Shell Bay Restaurant and Cafe. Just a short hop across on the chain ferry from Poole's Sandbanks, it is situated on an ideal spot that takes in a panoramic view of Poole Harbour, the nearby golden sand beaches; gentle waves lap and luxury yachts drift past. You could easily be at the Mediterranean coast on a warm summer evening.
So not really a 'room', but certainly a table with a view! Find out more and book at Shell Bay restaurant and Bistro.

So be spoilt for choice with rooms (and restaurants) that offer fantastic vistas; whatever your preferred stay, sit back and enjoy the view!
Related
0 Comments