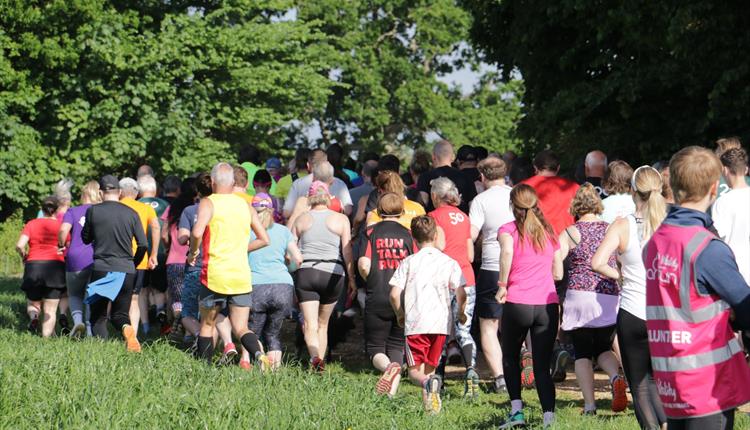 About
A free, fun, and friendly weekly 5k community event. Walk, jog, run, volunteer or spectate – it's up to you!
Course Description
The course consists of two big loops and one small loop within Upton Country Park in the order big - small - big.
To find the start and pre event brief gathering point, follow the path from car park past the tea rooms and through the gate.
Shortly after the start, turn sharp left to start the first anti-clockwise big loop which takes you downhill through woods and left onto a path which meanders through an open meadow. Towards the end of the first loop at the top of an incline you pass the finish funnel and keep straight on, passing the start point again. At the next junction, carry straight on to commence the small anti-clockwise loop. There will be runners in both directions for a short stretch at the start/end of this smaller loop so always stay right. At the top of the hill turn right to start the big loop for a second time. As you near the top of the incline on the second big loop, head left into the finish funnel on the grass.
The course is mildly undulating and offers stunning views over Holes Bay.
Location of start:
The event starts on a path on the right after you enter the open area of the park through the gate just past the tea rooms. Participants gather near the start area through the same gate for the pre event briefing.
Getting there by public transport:
Bus: The Morebus circular services 8 & 9 to and from Poole bus station stop at both the main park entrance and the Blandford Road entrance. Timetables are available at morebus.co.uk.
Train: The closest train station is Hamworthy and the nearest park entrance from there is at Blandford Road (BH16 5BL).
Getting there on foot:
The start is a few minutes walk from the bus stop at the main park entrance or a 10/15 minute walk from the Blandford Road entrance.
Getting there by road:
Upton Country Park is three miles northwest of Poole town centre, clearly signposted with brown tourist signs from the A35 and A350. The postcode for satnav is BH17 7BJ.
Post Run Coffee:
Every week we grab a post parkrun coffee in the Upton Country Park Tea Rooms - please come and join us!
Upton House junior parkrun
It is a 2k event for juniors only (4 to 14 year olds) and is held every Sunday at 9:00am. Please see the parkrun website for more information.
Image credit: Andy Neagle - From Upton House parkrun facebook page
Book Now
Guide Prices
| Ticket Type | Ticket Tariff |
| --- | --- |
| Adult | Free |
It's free but please register before your first run. Only ever register with parkrun once. Don't forget to bring a scannable copy of your barcode (request a reminder). If you forget it, you won't get a time.
Upton Country Park Dorset
Poole Rd
Poole
Dorset
BH17 7BJ
Opening Times
Event date

(1 Jan 2023 - 31 Dec 2023)

Day
Times
Saturday

09:00

- 10:00
TripAdvisor