Hangover Hill & Lighthouse present Live & Unheard - The Bit on the Side Live at Lighthouse: OUTSIDE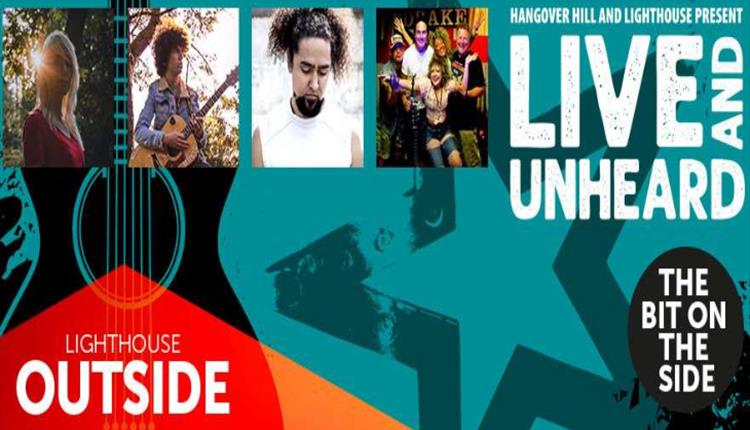 About
Cast your mind back to summer festivals, sat outside with a drink, relaxing with friends and soaking up the atmosphere. The anticipation beforehand, the long lazy day listening to music, dancing, leaving your cares behind. Now hold that thought and fast forward to today as you look forward to Live and Unheard 'The Bit on the Side'. Enjoy your very own mini festival afternoon in the intimate amphitheatre at Lighthouse.
Extend your day. If you book for both the daytime and evening events on 3 July you'll pay only £20 for a day of chilled music and summer vibes.*

Carley Varley (1pm till 1.40)
Carley Varley (yes that's her real name!) is an acoustic musician based in Bournemouth. After busking on the streets, Carley began to be asked to perform inside venues and has gone on to release her own music. After her Captured Memories EP, Carley is currently recording her Seasons EP, she is very passionate about encouraging others and music.
Marco Di Gaetano (2pm till 2.40)
Marco is a local singer/songwriter, guitarist and loop pedalist from Ringwood who began his music journey as a child performing in local competitions before venturing further afield. He is a bass and baritone singer but his full vocal range spans five octaves when singing in his falsetto/head voice. He enjoys creating songs where he can layer his vocals using his loop pedal to create harmonies that underpin his unique style of music.
Tim Somerfield (3pm till 3.40)
Tim Somerfield (Afro Ninja) is a loop pedal wielding, acoustic guitar toting, singing supremo hailing from Bournemouth on the south coast. He has performed over 1000 shows in the past 4 years alone, boasting an enormous repertoire, alongside the kind of diversity and musical flexibility few can match. You will find your new favourite songs, cleverly crafted and powerfully delivered, in what is always a mind-blowing set.
Jazz Wrann and The Ruby Welts (4pm till 5pm)
Jazz Wrann & The Ruby Welts are a five piece party band, guaranteed to fill the dance floor & leave the audience shouting for more. Soulful vocals; Punchy upright bass; Catchy cajon & bodran; Acoustic guitar; & harmonicas creating infectious folk and country melodies and rhythms. In a nutshell there is no way you can watch this band and not have a great time!
Live and Unheard is a monthly music series that features some of the best groundbreaking, grassroots acts around, all playing original music.
Book Now
Lighthouse Poole's Centre For The Arts
21 Kingland Road
Poole
Dorset
BH15 1UG
Opening Times
Sorry, this event has passed
TripAdvisor