DREAM MACHINES Motorcycle Evenings – SEPTEMBER DATES CANCELLED
Owing to the continuing situation regarding the Coronavirus, and with regards to government advice concerning events and restrictions on public gatherings, it is unfortunately not going to be possible to organise the weekly Dream Machines motorcycle evenings on September Tuesdays on Poole Quay as we had originally hoped. We had looked at how we could deliver the event but the requirements to avoid mass gatherings, maintain social distancing, implement test and trace, and increased hygiene requirements made it too difficult.
We are disappointed to have to make this decision but the safety of all event attendees, spectators, contractors, staff and local residents needs to be assured. We would ask that all riders respectfully observe the position
Thank you for your understanding.
Season ticket armbands - people who had already pre-purchased armbands for this season can obtain a full refund from the Tourist Information Centre located within Poole Museum (in exchange for the armband), which is open from 10.00am to 1.00pm and 2.00pm to 5.00pm daily.
#PooleDreamMachines sponsored by Coles Miller Solicitors
The UK's biggest and best weekly bike meet usually takes places on Poole Quay every Tuesday.
Poole Quay Dream Machines is a fully marshalled and self-funded event. Entry is £1.50 per bike on the evening. Alternatively season armbands are available from Poole Museum or the Lord Nelson on Poole Quay for £8 giving entry for the entire season.
The event creates a unique, exciting atmosphere as bikers and spectators enjoy a relaxed evening on Poole Quay. The backdrop of the quay and harbour offers the perfect location and there is a great selection of waterside cafes, bars, restaurants and food kiosks offering refreshment, many with bike night specials on their menus.
When the main quayside area becomes full there is a second arena at Harbourside Park available.
The popular Bike of the Night competition takes place every week. On the evening a different judge selected by Poole Tourism selects their favourite bike on display. The winner receives some brilliant bike related goodies.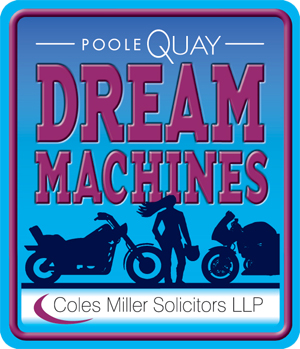 If you are interested in trading at the Poole Dream Machines event, please fill out our Poole Events Form to register your interest.

NB, the area between Pavers and Studio Poole is private land from Old Orchard, all the way back to the lifting barrier.
*We have been asked to keep it clear for fire access as some fire exits open on to it.
Dream Machines is part of Wave 105's Summertime in the South events programme.