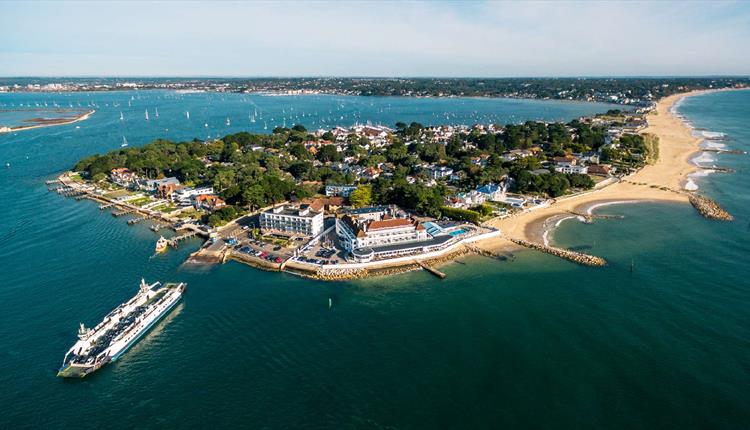 About
The Poole Ferry service is currently running normally
Please visit the ferry website for the most up to date information.
The ferry will be accepting motorised vehicles, foot passengers and cyclists . Foot passengers and cyclists will be required to wear face coverings while on board the ferry. These passengers will need to supply their own face covering, and anyone not wearing a proper one will not be able to travel. Motorcyclists will be required to keep their helmet on while on board, and vehicle passengers will not be allowed to leave their vehicles or open windows while on the ferry, and convertible cars must travel with their roofs up. For more information on the social distancing measures in place and the ferry timetable visit the website.
Operated and owned by the Bournemouth - Swanage motor road and ferry company, the Sandbanks Ferry has been providing passage for residents and visitors for over 90 years!
With the ability to carry up to 48 vehicles it has become the shortest route connecting Bournemouth, Poole and Swanage, which saves you a 25 mile return journey from Poole to Swanage.
It takes around 4 minutes to cross the sea which gives you enough time to either sit back and wind down in your car or get out and take in the beautiful sea views.
The chain ferry can carry pedestrians, pedal or motor cycles, cars and light vans, goods vehicles / camper vans, buses and coaches.
Sandbank Ferry Prices:
Pedestrians (one way charge only, from Sandbanks) - £1.00
Pedal or Motor Cycle - £1.00
Car or Light Van/Most Camper Vans ( up to 3500 Kg maximum operating weight ) minibuses up to 17 seats - £4.75
Goods Vehicle with a maximum operating weight of more than 3500 Kg. Toll includes VAT at the applicable rate - £9.50
Bus or Coach (with 18 or more seats including driver) max. 2 axles - £9.50
Book Now
Opening Times
Ferry times (Sandbanks to Studland)

(17 June 2023 - 31 Dec 2023)

Day
Times
Monday - Sunday

07:00

- 23:10

*
* Sandbanks to Studland
Ferry leaves Sandbanks/Poole side on the hour, twenty past and twenty to the hour.
First Ferry 7am, last Ferry 11pm.

Studland to Sandbanks
Ferry leaves Studland/Swanage side at ten past, half past and ten to the hour.
First Ferry at 7.10am and last Ferry at 11.10pm.
Christmas Day service is half-hourly from 0800 until 1810 hours. Leaving Sandbanks on the hour and half hour and from Shell Bay at 10 minutes after and 40 minutes after each hour.

Crossing time is normally around 4 minutes.

POSTCODES FOR SAT NAV:
Poole/Bournemouth side – BH13 7QN
Studland/Swanage side – BH19 3BA

Dates and times marked with a '*' are provisional and may be subject to change